Meeting the Modern Needs of Traditional Vessels.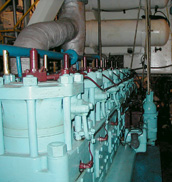 Whitworth Marine Services is a mobile marine engineering service.
Nobby Peers brings to you more than 15 years of onshore and offshore marine experience.  He is equally at home in a 1920s tugboat or a 21st century engine room. In addition to ships, Nobby has been involved in restoring many examples of earlier industrial technologies, such as steam locomotives and water-powered mills.
Read more about WHAT WE DO

»